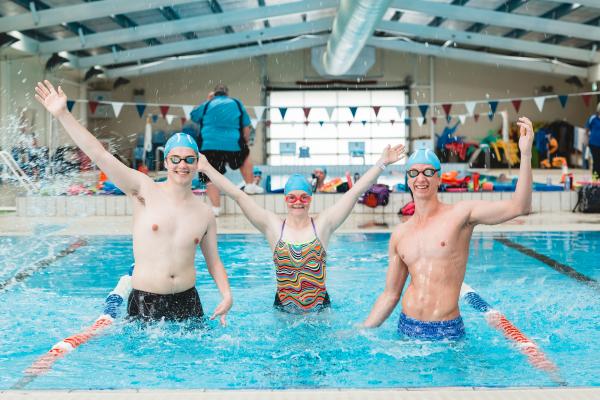 The Geelong Swimming Club has a strong multi-class program and the team has achieved great success at both the National and International level, with swimmers participating in the Paralympic Games, Deaf Olympic Games, World Down Syndrome Championship and more.
In 2020, our club was honoured to receive three awards at the Victorian Disability Sport and Recreation Awards. Swimmer Phoebe Mitchell took out Female Sportsperson of the Year, Sadat Hussain was awarded Coach of the Year, and our Club was awarded Team of the Year!
We pride ourselves on being an inclusive club welcoming all swimmers regardless of their abilities. Our Multi-class Team Manager Sadat Hussain has an additional accreditation of Coach of Swimmers with Disabilities, and has helped coach swimmers into elite squads and national representative teams.
Our openness and willingness to cater to the needs of the individual, ensures that the club stands out from the crowd. We offer inclusive swim squads with swimmers gaining entry to squads based on ability, not age. Squads are integrated and specialist coaching is offered to all swimmers of all abilities when necessary.
Our Commitment
We will include people with disabilities in our club in both participant and non-participating roles to the greatest extent that we can. We will endeavour to make our club as accessible as possible, based on our state sports policy on inclusion, the ability of individuals involved in our club, the type and level of competition they want to join and our capacity to make modifications that promote inclusion.
Geelong Swimming Club has applied to the Australian Charities and Not For Profits Commission to register our charity 'The Geelong Swimming Club Foundation" which will further support our multi-class swimmers — more information to follow.
What We Ask You to Do
If you have a disability, tell us what we can do to help include you in our club. We understand that can sometimes be difficult to talk about, but we will do our best to make any necessary adjustments or modifications. Most importantly, please talk to us if you have any concerns or ideas to help us make our club more inclusive.
If you would like more information now, please contact Sadat Hussain.